When the building we know as Sturgis Library was still a farmhouse, the teenaged William Sturgis, who had been born in the house, left it forever. He sailed around the world four times, and then lived in Boston for years. But not long before he died in 1863, he bought back, for only one purpose, the building his mother had sold long before. In the middle of the Civil War there was plenty to think, and worry, about, even for a man of 80. Sturgis thought of creating a library in Barnstable.
Libraries occasionally receive public and media attention, usually when the lack of money threatens their existence. If you have read this far in these comments, you do not need me to tell you that dynamic libraries are critical to the present, and to the future, well-being of persons, of communities, of nations. Without libraries, we are in several kinds of  trouble. Sturgis happens to be one of the finest libraries anywhere. That is not just because of the Lothrop Room, which makes Sturgis the oldest building housing a library in the United States. And it is not because of the fascinating Sturgis family legacy or the Kurt Vonnegut connections. It is not just the genealogical resources that draw people from all over the country, not just the myriad programs for children and adults, not just the splendid little "book store," not just the beyond-exemplary staff service that is so constant that sometime we might take it for granted. You know why Sturgis is Sturgis.
Nearly sixty percent of the funding for Sturgis Library comes from private donations. Sturgis continues to serve Barnstable, the Cape, and beyond after more than 150 years.
Every dollar, every volunteer hour, you give to Sturgis—every visit you make to Sturgis—buttresses this Library.  This place is more like a family, or a home, than a building filled with books. But you know that.
Greg Williams, President, Board of Trustees
---
Sturgis Library is an independent nonprofit public library and research archive, not a Town department.  We receive only 40% of our funding from the Town of Barnstable, and must raise 60% of our funds through donations, grants, event proceeds, book shop sales, and other non-municipal sources.
Our donors give to the library in many ways:
Bequests
Gifts of stock or securities
Gifts of goods or services to our fundraisers
Donations of books, jewelry, and household items to our sales
Donations of family papers or historic materials to our research archives
Spontaneous donations in our donation boxes
Gifts of time — volunteering at the Library or at Library events
If you are interested in supporting Sturgis Library, please contact Library Director Lucy Loomis for more information.  You can reach her at 508-362-8448 or via email at sturgislibrary@comcast.net.
---
Statistical Overview for FY2019
Number of items in the library's collection:  74,770
Materials checked out of the library:  66,429
Visitors to the library:  57,318
Attendance at library programs: 7,949
Major Accomplishments & Projects
Sturgis Library was awarded a number of special grants to enhance library programs and services to the community.

Thanks to generous funding through a federal LSTA grant administered by the Massachusetts Board of Library Commissioners, the Library has embarked a partnership with the Sturgis Charter Public School to integrate digital and preservation copies of its archival materials related to the history curriculum.  We received matching funding for this project from The Cooperative Bank of Cape Cod.
The Kirkman Trust Fund of the Town of Barnstable granted us funds for the purchase of books, ebooks, and technology.
The Cobb Trust granted the Library funding for the purchase of library materials for the Summer Reading Program.
The Cape Cod Antique Dealer's Association awarded us a grant to assist with the framing of our collection of Edward Gorey posters and ephemera.

We established a new Corporate Donor program, where businesses pledge to support the Library for at least 3 years.  You'll see the framed logos of our business supporters in our foyer.
In conjunction with the Dennis and Yarmouth Libraries, we completed a project to digitize of the Barnstable Patriot (1830-2017) and Register (1836-2017) newspapers. We are very grateful to the Community Preservation Committees of the towns of Barnstable, Dennis, and Yarmouth for funding this amazing project.  You can search the digitial archive at http://digital.olivesoftware.com/Olive/APA/Sturgis/default.aspx#panel=home
The Library established a "Library of Things," which includes creative kits, musical instruments, toys, learning games, and other non-book items to check out.
We extend our thanks to all who donated to our stone wall project.  We have an eroding hill at the rear of the library, and funding will help to build a retaining wall faced by stone to match the other historic stone walls around the property.
We completed an update to our 5-year Strategic Long-Range Plan, FY2020 – FY2025.
The Library provided notary services to dozens of visitors throughout the year.
We participated in the Cape-wide Hydrangea Festival again this year, featuring  four local gardens.  We are grateful to our dedicated gardeners for opening their grounds for us to enjoy.
The Library sponsored over 200 programs, exhibits, and events for adults, young adults, and children, including lectures, music and craft programs, art and writing workshops, sales of books, ephemera, music, jewelry, plants and more, a Holiday Tea, Lego Club, storytime, toddler time, and other well-attended programs and events. Together with the six other Barnstable village libraries, the Library participated in the annual collaborative Summer Reading Program.
We said goodbye to Youth Services Librarian Megan McClelland and Bookkeeper Megan Terrio.  We will be welcoming new Youth Services Librarian Christy Munier and new bookkeeper Polly Brazelton in July and August.
The Library said goodbye to Board member Fred Schilpp.
Sturgis Library is grateful to its hardworking staff, Board of Trustees, volunteers, and most of all its library patrons and visitors, who support us throughout the year. The success of Sturgis Library is due to the people who enter its doors – to visit, to relax and read, do research, check out library materials, attend events, or to share a part of themselves with us. Many, many thanks.
---
Special Support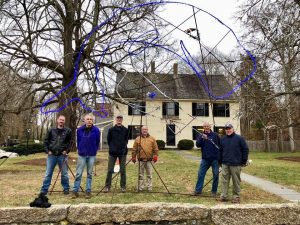 In addition to the Annual Fund donors listed in the next section of our annual report, Sturgis Library has received support from individuals, businesses, organizations, grantors, and others for a variety of needs throughout FY2018. With the help of these special donors we were able to purchase materials to support the Barnstable Public Schools' Summer Reading Program, to fund a collaborative newspaper digitization project, to frame Gorey posters and ephemera, to sponsor engaging programs, fund discount museum passes, build a stone wall, and grow the Preservation Fund.  We have also received proceeds from the sale of donated vehicles, and honored family members and loved ones through memorial and honorary donations.  In addition, we have established a new Corporate Donor program in which businesses pledge to support the Library for three years or more and receive recognition on our corporate donor wall.  We also are grateful for employer matching grant funds from a number of our generous donors.
If we inadvertently left you off the list of special donors or spelled your name incorrectly, please accept our apologies, and contact us at sturgislibrary@comcast.net so that we can correct our records. We thank all of our donors and supporters for their generous gifts to Sturgis Library.
FY2019 Special Donors are:
Mary Ann Agresti
Donald and Susan Babcock
Carrie Bearse
Judith Bennett
Kathleen Benson and Robert Berry
Ellen Berman
Sandra Bilbrey
Jeffrey and Nancy Bilezikian
Patricia Blair
Richard and Susan Bloom
Anne Bockhoff
Donald Borst
Judith Boyd
Jeff and Terry Boyd
Boys Hockey 1st Team of Milton Academy
Paul Brodnicki
Theresa Brosnan
Judith Cahoon
Meredith Censullo
Gary Chabot
Eleanor Claus
Bethiah Crane
Suzy Cummings
Kenneth and Kathleen Dorman
Lucy Draper
Charles and Sandra Eager
John and Christine Ehret
Gabrielle Elitov
Enoch Cobb Trust
Daniel Esdale
Lori Famigliette
Elizabeth Ferretti
Bunny and Paul Fitzgerald
Richards and Susan French
Charles and Marilyn Fuller
Jane Garland
Jack and Suzy Genest
Miles Gibson
Theresa Gilliland
Sarah Greer
Eric Grossman
Gene and Susan Guill
Handy Family Charitable Fund
Robert and Joanne Hansen
Mike Harden
Sandra Harris
Gerald and Anne Hazard
John Heffernan
Lee and Jeanie Hill
William Holt
Elizabeth Hope
James and Lee Hunsaker
Kenneth Hurto
John Hurwitch and Blue Magruder
Robert Hutchinson
Lynda Hylander
Julie Jones and Larry Mulaire
Lawrence Keefe
Suzanne Kelly
Kathleen Kenneally
Paula King
Stephen Klug
Diana Levy
John and Susie Littlefield
Lucy Loomis and Daniel Santos
Ted Lowrie and Kathy McShane
Elizabeth Magruder
Dorothy Mark
Frank and Jan Mastromauro
Mary McCarthy
Theresa McDowell
Nancy McKelvy
Michael and Didi McKimmey
Sarah McNamara
Jennifer McNulty
Stephen Metcalf
Michigan Lothrop Group
Barbara Murphy
Noelle Murphy
Cindy Muzyka
Cy and Weezie Nelson
Philip and Molly Nelson
Rob O'Leary
Robert O'Brien
Robert and Beverly Parke
Felicia Penn
Tom and Joyce Prince
Jane Reed
Avery Revere
Randall Rosenburg
Barbara Sato
Trish Savage
Craig Schelter and Elizabeth Nill
Peggy Schiffer and Sam Noland
Fred and Carolyn Schilpp
Jilda Shafer
John Sheedy
Jonathan Simmons
Carol Smith
Jey Smith
Susan Starkey
Sherry Greene-Starr and Gordon Starr
Bernard Stein
James Sullivan
Robert and Ellen Temkin
John and Ann Temple
David Tracey
Roger True
Ginny Veras
Steve Whitmore
Greg and Marianne Williams
Timothy Wolcott
---
Donors to the FY2019 Annual Fund
The individuals, businesses, and organizations listed below contributed to the Sturgis Library Annual Fund in FY2019, which ran from July 1, 2018 through June 30th, 2019.  Annual fund donations are unrestricted funds which go towards our operating expenses each year.
If we inadvertently left you off the list of Annual Fund donors or spelled your name incorrectly, please accept our apologies, and contact us at sturgislibrary@comcast.net so that we can correct our records. We thank all of our donors and supporters for their generous gifts to Sturgis Library.
Donors are color-coded by giving level.  Donors of $1-$249 are listed in black, $250-$499 are listed in purple, $500-$999 are listed in green, and $1,000 and up are listed in blue.
Abbott, Janet
Adams, Virginia
Albert, Donald and Donna
Aldhurst, Regina
Allen, David and Ruthanne Allen
Allen, Jane and Robert
Ansel, David
Ashworth, Craig and Margaret
Baker, Deborah and Benjamin
Banner, David and Lucy Banner
Barron, Melanie
Bearse, Carrie
Bearse, Scott
Benson, Kathleen and Berry, Robert
Berman, Roger
Bernard, Peggy
Blair Hudak, Anne
Blair, Patricia
Blatt, Karen
Blume, Ralph and Nancy
Bockhoff, Anne
Boocock, Roger and Helen
Boyle, Jane
Brandin, Kerry and Jan
Brosnan, Theresa
Brown, Vernon and Barbara
Buono, Harriet
Burger, Loren and Katherine
Burke, Jessica
Burrows, James
Cahoon, Ralph and Ginger
Cahoon, Richard and Carol
Cannon, Ted and Sue
Carey, Elizabeth
Carroll, Herbert and Mary
Carroll, John and Wendy
Carvounis, Lucas and Ms. B Braman
Chabot, Gary
Champion, Sara
Champlin, Constance
Clark, Richard and Paula
Claus, Eleanor
Coggeshall, Caroline
Coggeshall, Clarke and Ethel
Cole, Isaac and Cynthia
Cole, Judith
Collins, Robert and Judy
Conaway, Linda
Conroy, Martin
Conway, Lisa and Gary
Cook, Bill and Toni
Cosgrove, Edward and Anne
Crane, Richard
Crippen, James
Crocker, Roderick and Judy
Crowell, Joel and Beth
Crowley, Jackie
Crowley, Ken and Elissa
Davis, Holbrook R.
Davis, Phyllis
De Ciccio, Jeffrey and Sharon
Dee, Christian and Nicola
Detjens, Philip and Deirdre
Doll, David and Julie
Dorman, Kenneth and Kathleen
Dornemann, Peter
Dowd, Rosalie
Dowdall, Lynne
Downs, Mike and Cindy
Driscoll, William and Jeanne
Duprey, Andre and Carlene
Eager, Charles and Sandra
Eleftherakis, Peter and Susan
Elliott, A. Lovell
Elliott, Ben and Lay, Marcia
Ellis, James and Joan
Exxon Mobile Foundation
Fallon, Peter
Farrenkopf, Craig and Joan
Fenney, William and Mary Anne
Ferretti, Elizabeth
Field, Maeve
Fiset, Donald and Judy
Fiske, Phineas and Johanna
Fitzgerald, Paul and Bunny
Flores, John
Fortman, Matt
Frazee, Robert and Alexena
Freeman, Peter
Freitas, Caroline
Fuller, Charles and Marilyn Fuller
Gabel, Ronald and Laurel
Gabriel, Ann
Gallagher, Frederick and Ellin
Galvin, Grace
Gardner, Janice
Genest, Jack and Suzy
George, Lloyd and Linda
Germani, Americo and Virginia
Gerrier, Robert and Marie
Gibson, Diane
Gibson, Miles
Gifford, Connor
Golden, William and Adele
Goldstein, Jeffrey and Bea
Guill, Gene and Susan
Gunning, Thomas and Sally
Handy, Edward and Margaret
Hannah Lyons Bourne Fund
Hansen, Marjorie
Harden, Mike
Harris and Ringler Dental
Hawkins, Richard and Ferguson, Marian
Helms, Robert and Lynette
Hemeon, Jan and George
Hemr, William and Marjorie Hemr
Henson, Roger and Dianna
Hickey, Maired and Robert
Hill, Louise
Himstead, Joan
Hinckley, Clark
Hinckley, Helen
Hinkle, James and Hammer, Roy
Holcombe, William
Holmes, James
Hough, Robert
Housman, Ted and Margaret
Hughes, Patricia
Hunsaker, James and Lee
Hurto, Kenneth
Hurwitch, John and Magruder, Blue
Ives, Elizabeth
Jackson, Benjamin
Jones, Julie and Mulaire, Larry
Jones, Warren and Jeanne
Kaess, Walter
Kane, Margaret
Kaupp, Herbert and Rosemary
Kelly, Ilona
Kelly, Jeanne
Kelly, Suzanne
Kenyon, Richard
Kimball, Molly
King, John and Mary Ann
Klug, Steve
Kovatch, George and Susan
Kula, Paul and Ginny
Lamb, Rick and Nancy
Langeland, Douglas and Dianne
LaPine, Paul and Wendy
Lathrop - Friedman, Pamela
Lavery, Robert and Pat
Lewis, Jon and Eliza
Lickfield, William and Tamara
Littlefield, John and Susie
Livingston, Susan
Long, Philip
Lothrop, John and Carol
Lothropp Family Foundation
Loughran, Patrick and Meg
Lowrie, Ted and McShane, Kathy
Luban, Naomi
Lundholm, William
Lyman, Joanne
Machado, Gayle
Macleod, Marilyn
Magner, Paul
Maguire, Timothy and Susan
Mangan, Deborah and Jim
Martin, David and Susan
Martin, Steven
Masi, Melody and Diana
Mastromauro, Frank and Jan
Mathewson, Herbert
McAuley, James and Linda
McCarthy, Mary
Medeiros, Edmund
Medeiros, James and Geraldine
Meyer, Robert
Minehart, David and Sharon
Moeller, Susan
Moore, Christopher and Diana
Moore, Jeffrey
Morales, Harry and Kerin
Morganstern, Nancy
Morin, Julius and Pamela
Morton, Roy and Elizabeth
Moser, Marcia
Mullen, Regina
Munsell, David and Diane
Musselman, Steve
Nelson, Cy and Weezie
Nelson, Philip and Molly
Newman, Arlene
Nichol, Margaret
Nickerson, Gary
Nober, Linda
Norton, Mary
O'Hare, Joanne
O`Leary, Robert
Orcutt, John and Sally
Otto, Paulette
Painter, Marion and William
Parke, David
Parke, Robert and Beverly
Pastva, Cathy
Patrick, Miya
Pearl, Richard and Janet
Pease, Elizabeth
Penni, Suzanne
Perera, Ronald and Judith
Perrault, Michel and Anne
Phillips, David and Susan
Phinney, Frederick
Prince, Tom and Joyce
Prothero, Helen
Quinn, William and Marilyn
Radkowski, Emily
Rapp, Jan
Reinhardt, Valerie
Revere, Avery
Richards, Bruce and Janice
Richardson, Elizabeth
Riley, Joan
Ring, Ann
Ringler, Neil and Sarah
Riordan, Arline and Cornelius
Risio, Nancy
Robbins, Evelyn
Robinson, Kenneth and Lilla
Robinson, Ronald
Rooney, John
Roy, Alexandra
Saling, Christy
Sato, Barbara
Scarafile, Peter and Judy
Scheid, Carol
Schelter, Elizabeth and Craig
Schiffer, Peggy and Sam
Schilpp, Fred and Pickman, Carolyn
Schlander, Joan and Minelli, Alan
Sciarappa, Dorothy and Moore, Andrea
Shea, Walter
Siegel, Paul and Ronnie
Silber, Jeffrey and Leary, Kristin
Smith, Carol
Smith, Jey
Stacy, Monika
Staples, Judith
Starr, Gordon and Greene-Starr, Sherry
Stein, Bernard
Sterling, Eliot and Joyce
Stewart, Irving
Stolte, Robert and Shirley
Stotts, Michael and Margaret
Sturgis, Barry and Nicole
Subramanian, Meera
Sweeney, Joseph and Alice
Temple, John and Miller, Ann
Thacher, Frank
Thayer, Larry and Margaret
Thompson, Paul and Sallie
Tirrell, Frederick and Julie
Tolliver, Roy and Katherine
Trisko, Joan
True, Roger
Turco, Carmela and Sheridan Gene
Turner, Beverly
Van Buren, Wayne and Patricia
Varblow, Cary
Vetorino, Peg
Vuilleumier, Louis
Waasdorp, Erica
Walters, Barbara
Ware, Paul and Susan
Weaver, Esta
Weber, David and Carole
Weinblatt, Anita
West, Peter and Debbie
Wheeler Family
Whieldon, Lucille and Jeffrey
Whitmore, Steve
Wilker-Manfredonia, Leslie
Williams, Gary
Williams, Greg and Marianne
Willman, Phyllis
Wirtanen, Mark and Riley, Terrie
Wolfe, Clifton
Wood, Marie
Wright, Joan
Young, Jacquelyn