Hydrangea Festival Garden Tours
July 8
@
10:00 am
–
4:00 pm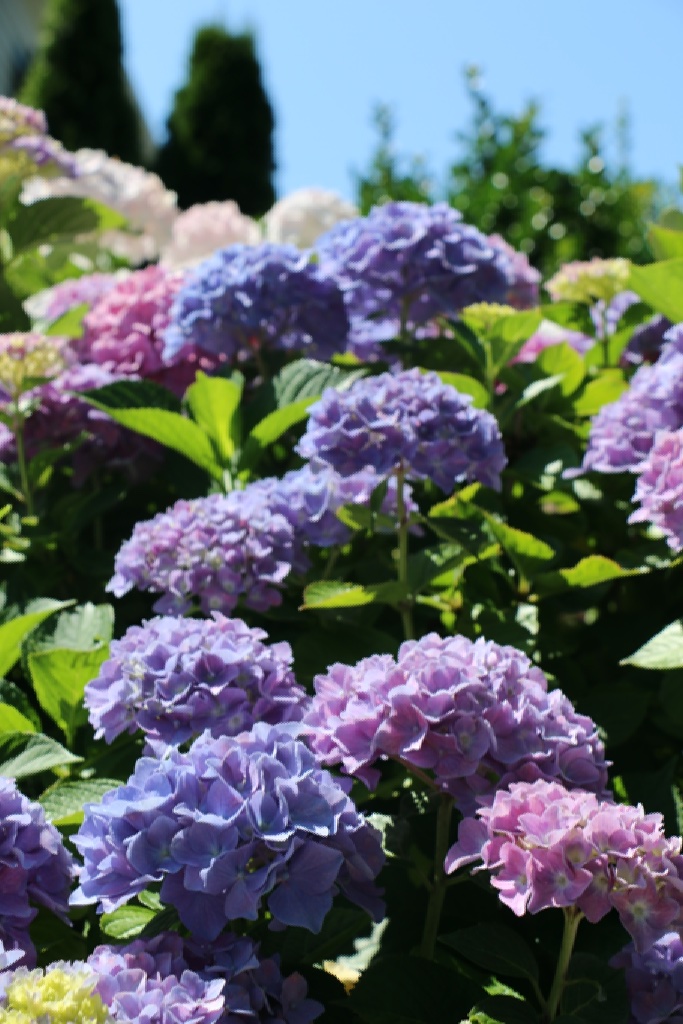 45 Collie Lane, Cummaquid
Ann Skopek and Richard Peterson
Perched atop the gently sloping back yard, overlooking two giant willows and a kettle pond which serves as home to herons, geese and other waterfowl, these extensive gardens provide a colorful and peaceful setting. A fringe tree, speedwell, lilies, Queen of the Prairie and flamingo fan are just some of the plants preserved from the gardens of Marilyn Kelley, one of the original owners of the property. The garden shed boasts a massive display of climbing lace-cap hydrangeas while the upper shade garden features glass accents. The wooden boat building and repair shop in the barn will be open for anyone interested in viewing this craft first-hand. -–Park in the field to the left along Collie Lane or along the side of the driveway – follow parking attendant's directions. Overflow parking will be along Mary Dunn Road — be careful parking and walking along this busy road!
3517 Main Street, Barnstable Village
Deb and Ed Mareb
On the corner of King's Highway and Cindy Lane sits the Captain James Otis House (1846), which is on the National Register of historic places. The building is encircled by a wide range of hydrangeas, but also notable are French and Korean lilacs, Roses-of-Sharon, peonies, white roses and lilies. A Smoke Tree and big white Ash join a lovely Catalpa shading the brick courtyard, while two unique trees were recently added to the front lawn: a Variegated Dogwood and Red Bud Flamethrower. An herb garden plus an assortment of annuals and perennial can be seen, but the focus is on the many species of hydrangea, including Blue and White Mop Head, Lace Cap, Climbing Hydrangea and White Annabelle.  – Park along the side of Cindy Lane where indicated.
1747 Hyannis Road /Phinney's Lane, Barnstable Village
Bob and Alex Frazee
Built c1844 by Allen Hinckley, this house, known to locals as Dr. Beam's, perches on hilly terrain which provides interesting opportunities to experiment with a wide variety of plant materials. With gardens begun by Dorinda Beam and subsequent owners, the home now offers a pleasant mix of trees and shrubs, perennials and annuals and fruit trees, as well as raised beds for vegetables and herbs. On the street is an elevated walled garden with creeping phlox that transitions to other perennials as the seasons progress, while farther south, against a cedar fence, a bank of blue hydrangeas should be in full bloom by early July. Moving deeper into the property, you'll find beds of hosta, day lilies, azaleas, rhododendrons, iris, other hydrangea varieties and roses, alongside hollies towards the back of the yard. One large bed is in transition from once-dense covering of English Ivy to New England Native Pollinator Plants.   -–Park in the field across the street from the house.  Wait for the parking attendant for assistance crossing this busy street.
127 Mistic Drive, Marstons Mills
Nansea Taylor
As you enter Mistic Drive, you cannot miss this splendid garden. With a brand-new greenhouse–a long-awaited desire–where seedlings can now be started in early spring, these grounds stand out for their array of shapes and magnificent colors. In place for over 30 years, the gardens were created and have been maintained to this day by the owner, who has arranged a vibrant display of flowers against a deep shade background. There are clouds of iris amid myriad giant hibiscus of all hues, alongside five hydrangea and many ornamental grasses, all having been set in patterned plantings. These are interspersed with a rainbow of perennials, including hosta, gladioli, hollyhocks, foxgloves, gaura, Russian sage, and liatris. Stroll around and enjoy! –Park where indicated along the street.
The proceeds from the garden tours will benefit the Sturgis Library.  Admission: $5 cash per garden. No advance purchase necessary. This is a rain or shine event. 
Related Events