Science Fiction After Vonnegut: A Discussion with Charlie Jane Anders, Matt Bell, Lincoln Michel, Sequoia Nagamatsu, and Sarah Pinsker
August 17, 2021
@
6:30 pm
–
8:00 pm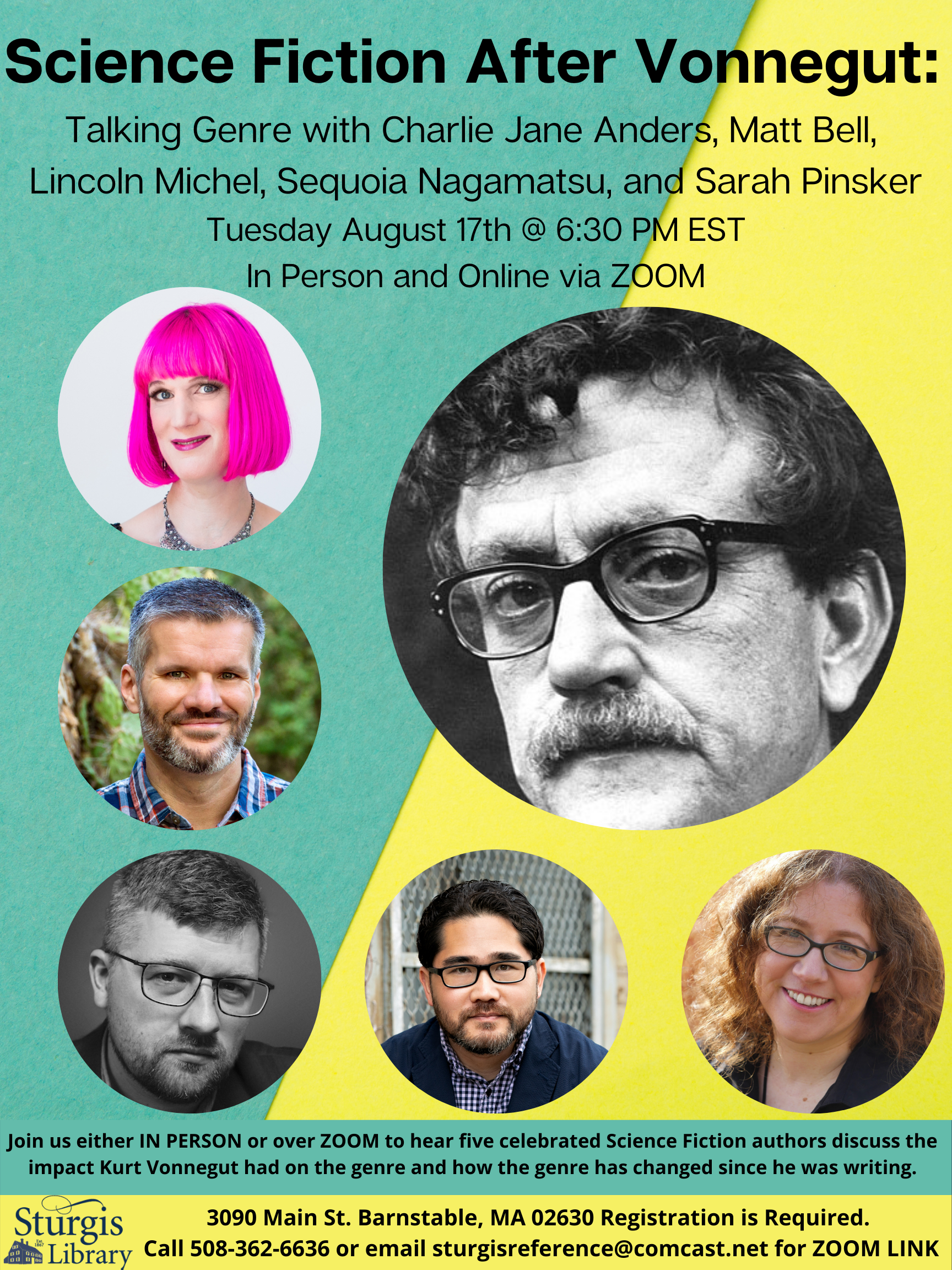 Science Fiction After Vonnegut:
Talking Genre with Charlie Jane Anders, Matt Bell, Lincoln Michel, Sequoia Nagamatsu, and Sarah Pinsker
Tuesday August 17th @ 6:30 PM EST
In Person and Online via ZOOM
Join us either IN PERSON or over ZOOM to hear five celebrated Science Fiction authors discuss the impact Kurt Vonnegut had on the genre and how the genre has changed since he was writing.
Registration is Required. Email SturgisReference@comcast.net to sign up! (for both In Person and on Zoom).
Author Bios:
Charlie Jane Anders:
Charlie Jane Anders is the author of Victories Greater Than Death, the first book in a new young-adult trilogy, which came out in April 2021. Up next: Never Say You Can't Survive, a book about how to use creative writing to get through hard times; and a short story collection called Even Greater Mistakes. Her other books include The City in the Middle of the Night and All the Birds in the Sky. Her fiction and journalism have appeared in the New York Times, the Washington Post, Slate, McSweeney's, Mother Jones, the Boston Review, Tor.com, Tin House, Teen Vogue, Conjunctions, Wired Magazine, and other places. Her TED Talk, "Go Ahead, Dream About the Future" got 700,000 views in its first week. With Annalee Newitz, she co-hosts the podcast Our Opinions Are Correct.
Photo credit: Sarah Deragon/Portraits to the People
Matt Bell:
Matt Bell's next novel, Appleseed, is forthcoming from Custom House in July 2021. His craft book Refuse to Be Done, a guide to novel writing, rewriting, & revision, will follow in early 2022 from Soho Press. He is also the author of the novels Scrapper and In the House upon the Dirt between the Lake and the Woods, as well as the short story collection A Tree or a Person or a Wall, a non-fiction book about the classic video game Baldur's Gate II, and several other titles. His writing has appeared in The New York Times, Tin House, Conjunctions, Fairy Tale Review, American Short Fiction, and many other publications. A native of Michigan, he teaches creative writing at Arizona State University.
Photo Credit: Jessica Bell
Lincoln Michel:
Lincoln Michel is the author of the collection Upright Beasts and the forthcoming novel The Body Scout. His fiction appears or is forthcoming in The Paris Review, NOON, F&SF, Granta, Lightspeed, the Pushcart Prize anthology, and elsewhere. You can find him online at lincolnmichel.com and @thelincoln.
Photo Credit: Adalena Kavanagh
Sequoia Nagamatsu:
SEQUOIA NAGAMATSU is the author of the forthcoming novels, HOW HIGH WE GO IN THE DARK (2022) and GIRL ZERO (William Morrow/Harper Collins and Bloomsbury UK) and the story collection, WHERE WE GO WHEN ALL WE WERE IS GONE (Black Lawrence Press), silver medal winner of the 2016 Foreword Reviews Indies Book of the Year Award, an Entropy Magazine Best Book of 2016, and a notable book at Buzzfeed. His work has appeared or is forthcoming in publications such as Conjunctions, The Southern Review, ZYZZYVA, Tin House, Iowa Review, Lightspeed Magazine, and One World: A Global Anthology of Short Stories, and has been listed as notable in Best American Non-Required Reading and the Best Horror of the Year. He teaches creative writing at Saint Olaf College and the Rainier Writing Workshop Low-Residency MFA program and lives in Minneapolis with his wife, the writer Cole Nagamatsu, their cat Kalahira, their real dog Fenris, and a robot dog named Calvino.
Sarah Pinsker:
Sarah Pinsker is the author of over fifty works of short fiction, two novels, and one collection. Her work has won three Nebula Awards (Best Novel, A Song For A New Day; Best Novelette, "Our Lady of the Open Road," Best Novelette, "Two Truths And A Lie"), the Philip K Dick Award, and the Theodore Sturgeon Award, and been nominated for numerous Nebula, Hugo, Locus, and World Fantasy Awards. Her fiction has been published in magazines including Asimov's, Strange Horizons, Fantasy & Science Fiction, and Uncanny and in numerous anthologies and year's bests. Sarah's first collection, the Philip K Dick Award winning Sooner or Later Everything Falls Into the Sea: Stories, was published by Small Beer Press in March 2019, and her first novel, A Song For A New Day, was published by Penguin/Random House/Berkley in September 2019. Her latest book is We Are Satellites, published in May 2021. She is also a singer/songwriter with three albums on various independent labels (the third with her rock band, the Stalking Horses) and a fourth in the works. She lives in Baltimore, Maryland and can be found online at sarahpinsker.com and twitter.com/sarahpinsker.
Photo Credit: Karen Osborne