Liz Mumford Artist Reception and Talk
October 1 @ 6:00 pm

-

7:30 pm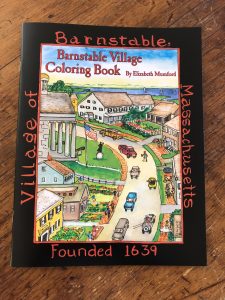 Join us for a very special Liz Mumford artist talk and reception to kick off our online auction of her original illustrations for our Barnstable Village Coloring Book.
Liz will discuss her art — both her noted black-bordered oil paintings and her newer watercolor work — and her development of coloring books for local villages and organizations.  Wine and cheese will be served at 6 PM, and her talk will begin at 6:30.  Admission is $10.
Liz's original drawings for the Barnstable Village Coloring Book, developed in conjunction with Sturgis Library, will go up for auction online starting on October 1, and will be available to bid on through October 26th, 2019.  Images include scenes around Barnstable Village (both present day and historic) including Barnstable Harbor, Main Street, the Unitarian Church and Cobb's Hill, Lothrop Cemetery, the Old Jail the Coast Guard Heritage Museum (originally the Custom's House), Barnstable Academy, the Courthouse, Sandy Neck beach and Lighthouse, Tales of Cape Cod (formerly the Olde Colonial Courthouse), the Barnstable County Fairgrounds, the children's room at Barnstable Historical Society, the Barnstable Yacht Club, Mill Way Beach, the Barnstable Fire Department, oystering on Scudder's Lane, Smitty's Ice Cream, Art in the Village, St. Mary's Church garden, Long Pasture Wildlife Sanctuary, Barnstable Comedy Club, the 4th of July parade, activities in the Hollow, Cummaquid Post Office, and more.  This is a great opportunity to have a bit of Barnstable Village art and history on your wall!
Each of the 27 original illustrations is professionally matted, and winning bidders will receive a signed copy of the coloring book.
Related Events