Compiled by Lucy Loomis. Barnstable, MA : Sturgis Library, 2011. Second edition, revised. 4to. 58 pp. Color photographs.
$15.00 (plus $3 shipping)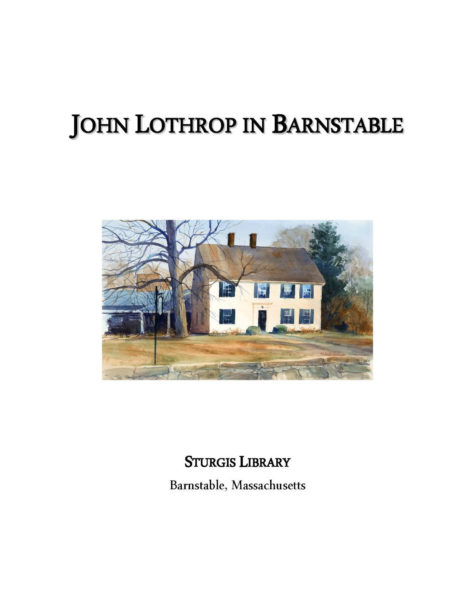 Contents include biographical and historical information on the Rev. John Lothrop, his congregation, his historic Bible (which is now on display at the Sturgis Library), his meetinghouse, and a history of the building and its inhabitants from the time it was a meetinghouse to the present day. It also includes a full transcript of Lothrop's diary, and photographs of the Sturgis Library and the Lothrop Bible. It concludes with a list of resources and websites.
This is an important resource for genealogical researchers, historians, and members of the Lothrop, Lothropp, Lathrop, Lathropp, Lowthorpe, and allied families.
To purchase a copy, you can:
Stop by the Sturgis Library and pick up a copy. They sell for $15.00 each.
"Buy it now" on ebay with a credit card or paypal payment for $18.00 (includes shipping & handling). Click here to purchase your copy on ebay.
Send a check or money order for $18.00 (includes shipping & handling) to Sturgis Library, Attn: Lucy Loomis, P.O. Box 606, Barnstable, MA 02630. Please include your mailing address.