Written and illustrated by Vivian McConkie Adams. American Fork, UT : Pitchfork Publishing, 2010. Second edition, revised and corrected. Oblong 4to. 29 pp. Color illustrations.
$12.00 (plus $3 shipping)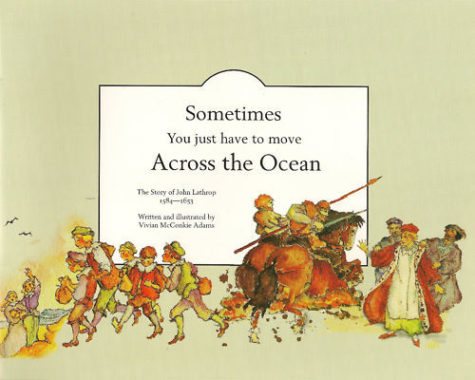 A charmingly written and illustrated book for children which tells the story of Reverend John Lathrop / Lothrop, one of the original founders of the town of Barnstable, Massachusetts. Lathrop, who had been jailed in England for his religious beliefs, journeyed across the ocean with his followers to settle in the new world. They originally landed in Scituate but soon afterward settled on Cape Cod. Many famous and not-so-famous Americans are descended from Reverend John.
To purchase a copy, you can:
Stop by the Sturgis Library and pick up a copy. They sell for $12.00 each.
"Buy it now" on ebay with a credit card or paypal payment for $15.00 (includes shipping & handling). Click here to purchase your copy on ebay.
Send a check or money order for $15.00 (includes shipping & handling) to Sturgis Library, Attn: Lucy Loomis, P.O. Box 606, Barnstable, MA 02630. Please include your mailing address.