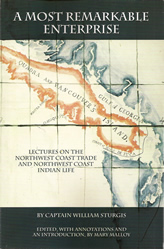 A Most Remarkable Enterprise : Lectures on the Northwest Coast Trade and Northwest Coast Indian Life.
by Captain William Sturgis. Edited, with annotations and an introduction, by Mary Malloy.
Revised, republished edition, 2013. 8vo. Black and white and color illustrations. Trade paperback. 216 p.
$21.00 (plus $4 shipping)
When the United States began to consider claiming territory to the Pacific Coast, Captain William Sturgis (1782-1863) had a unique perspective on the issue. As a mariner, he had circumnavigated the globe under sail four times and spent months trading with the Northwest Coast Indians. As a merchant, he managed many of the vessels traveling to the Pacific in the first half of the nineteenth century, including the brig Pilgrim, on which Richard Henry Dana Jr. made the voyage documented in Two Years Before the Mast.
Sturgis began to argue against American claims to the territory on the Columbia River in 1822 in a series of letters to the Boston Daily Advertiser. Between 1845 and 1850, he gave the four lectures included in this book, the most influential of which was "The Oregon Question." Though Sturgis devised the border that was eventually adopted, he did not support the expansion of either the U.S. or Britain. Sturgis argued that those territories belonged to the native people who already lived there, and in that he was a unique voice for his time.
Mary Malloy teaches Maritime History at the Sea Education Association in Woods Hole, MA, where she is also Director of the Global Ocean Program. She holds a Ph.D. from Brown University and is the author of four books on maritime history and three novels.
To purchase a copy, you can:
Stop by the Sturgis Library and pick up a copy. They sell for $21.00 each.
"Buy it now" on ebay with a credit card or paypal payment for $25.00 (includes shipping & handling). Click here to purchase your copy on ebay.
Send a check or money order for $25.00 (includes shipping & handling) to Sturgis Library, Attn: Lucy Loomis, P.O. Box 606, Barnstable, MA 02630. Please include your mailing address.