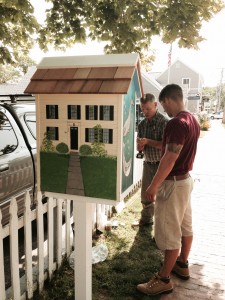 The Sturgis *little free* Library was installed in Barnstable Village in late July, and has been an instant hit with both Villagers and visitors alike.
Many to thanks to all who worked to make it happen!
Howard Woollard for building the Library
Staff memebers Antonia Stephens and Magda Brancato for decorating the Library with their amazing artwork
Barnstable Market for letting us put it up on their property
Old King's Highway for approval
Doug Mitchell and his construction crew for roofing and installing the Library
Stop by the Sturgis *little free* Library, located between Nirvana Coffee Shop and Barnstable Market on Route 6A in Barnstable Village and take a book or leave a book.
If you have books to donate to the Sturgis Library, please drop them off at the Library at 3090 Main Street during regular hours.