Sturgis Library's Little Quest Begins!
Visit Sturgis Library during the month of May and embark on a little magical quest! Four tiny magical lands will be set up in the library's front lawn underneath the big tree! After discovering each magical land, check it off on your checklist! Once you've discovered all four lands, the library will grant you ownership of your own magical stones!
*magical stones not suitable for small children*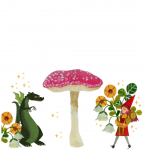 Checklists and magical stones can be scooped up in the children's room!
Related Events