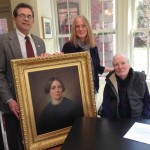 Sturgis Library is pleased to accept the donation of a portrait of Mary Louisa Sturgis Shaw (1821-1870), one of the five daughters of Captain William Sturgis and his wife Elizabeth Davis Sturgis. The Sturgises also had a son, William Watson Sturgis, who died in a boating accident as a teenager.
The portrait of Mary is the gift of S. Parkman "Parky" Shaw of Brookline, Massachusetts. He is a descendant of the noted Boston Shaw family. He presented the painting to Library Director Lucy Loomis and Library Trustee Dan Santos during a visit to his home in April. Also present were Sturgis family descendants Roger Warner and Clover Swann.
Mary Louisa Sturgis was the wife of Robert Gould Shaw, Jr. Both Mary and Robert were the children of prominent merchants in the China trade. They lived at 44 Beacon Street in Boston for many years. Robert Gould Shaw's nephew, also named Robert Gould Shaw, was the famous commander of the 54th Regiment Massachusetts Volunteer Infantry, an impressive black infantry unit that saw extensive combat during the Civil War. There is currently a fascinating exhibit at the Massachusetts Historical Society, running through May 23rd, highlighting the men of the 54th Regiment and Augustus Saint-Gaudens' memorial to them.
Mary and Robert had one daughter, Mary Louisa "Loulie" Shaw (1842-1873), who died at the age of 31. She had no children.
The portrait originally belonged to the children of Mary Sturgis's sister Caroline Sturgis Tappan. It passed out of the family sometime in the 20th century, and was later purchased at auction by Parky Shaw.
We are indebted to Mr. Shaw for his very generous donation. Mary's portrait will hang in the Hooper Room with her parents William and Elizabeth Sturgis, two of her sisters (Ellen and Caroline), and her nephew William Sturgis Bigelow.