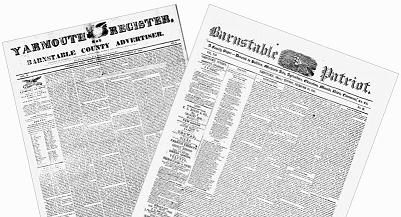 Sturgis Library, working together with the Dennis and Yarmouth libraries, has just competed the expansion of our Barnstable Patriot digital newspaper archive.The digital newspaper archive now includes both the Barnstable Patriot AND the Register newspapers and expanded coverage! The archive includes issues of the Patriot from 1830 to 2017 , and issues of the Register from 1836 to 2017.
Search the archive at http://digital.olivesoftware.com/Olive/APA/Sturgis/default.aspx#panel=home
The two papers originally included news of the entire Cape Cod and the Islands in the early years, with 20th century emphasis on the towns of Barnstable, Dennis, and Yarmouth. Users can access nearly 200 years of national and local news and events.
This archive allows researchers to search and view issues of the newspaper online using keyword searching. Articles can be saved, printed, emailed, or shared on social media.
There will be a reception and demo of the new newspaper archive in February (date TBA), and the libraries will be holding special training sessions in the coming months.
Our thanks go out to the Community Preservation Committees of the towns of Barnstable, Dennis, and Yarmouth for funding this very worthwhile project.