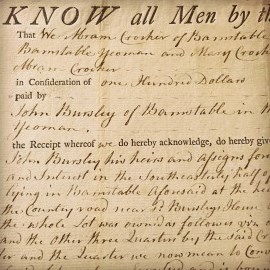 Sturgis Library is pleased to present our historic deeds index.  Staff and volunteers have been working to index the Stanley Smith Deeds Collection, an extensive collection of Cape Cod deeds dating from the 1600s to the early 20th century.
The Stanley Smith Deeds Collection comprises deeds for land, property, wharfs, salt works, church pews, etc. The deeds were collected by Stanley Smith over the course of his life's research into Cape Cod genealogy and history. This online database—a work in progress—has been created to allow researchers to examine the data from the deeds without having to handle the fragile documents or decipher the 17th-19th century handwriting.
In addition to the index, we are working with the Boston Public Library to digitize the deeds so that researchers will be able to search the index and then click on a link to see the deed.  This option will be available later this year.
To learn more about the deeds and index, and search the collection,  visit the Stanley Smith Deeds Collection page.