This blog highlights interesting items from the Sturgis Library Archives. Today's item is a magnificent folio of Moby Dick themed lithographs created by artist Benton Spruance.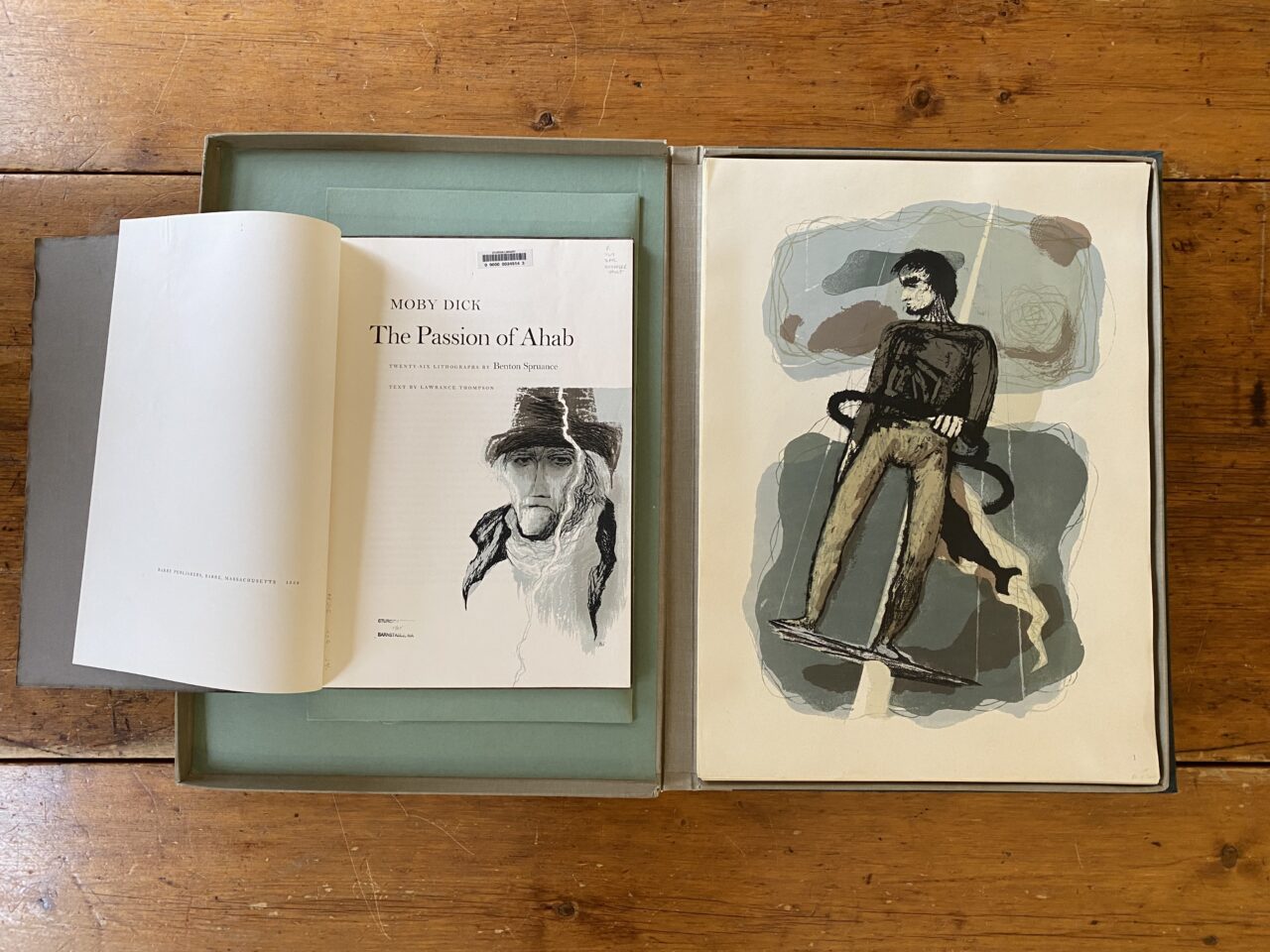 Moby Dick, The Passion of Ahab; Twenty-six Lithographs by Benton Spruance. Text by Lawrance Thompson (Barre, Ma: Barre Publishers, 1968). (R 769 SPR Kittredge Vault)
These 16x22in prints are housed in a blue cloth clamshell box accompanied by a softcover booklet of analysis written by author Lawrance Thompson. The booklet also includes excerpts from Herman Melville's Moby Dick that correlate with the prints.
American artist, Benton Murdoch Spruance (1904-1967) is best known for his pioneering work in color lithography. Lithography is a printmaking process that transfers a design from a flat stone or prepared metal plate to another surface by means of a chemical reaction. When Spruance first encountered lithography in the early twentieth century it was an undervalued medium with a long established reputation as a forum for political and satirical messages. Spruance broadened the potential for lithography through his superb use of color and elevated its status among American artists and collectors. Spruance followed the tradition of using lithography to deliver a message and imbued much of his work with social and psychological meaning as well as mythological, religious, or biblical themes.
This collection of twenty-six lithographs based on his reading of Herman Melville's Moby Dick are generally regarded as his most masterful works. Indeed, Spruance himself considered this series his major work and labored on it for years before meeting his unexpected and untimely death just before completing the process of reproducing the prints for publication. In the accompanying text author Lawrance Thompson explores the themes Spruance interpreted from Moby Dick. Thompson explains:
"Spruance in his lithographs, is not 'illustrating' Moby Dick. It should be stated quite clearly that he is by no means entirely sympathetic with Melville's viewpoint and themes. Nevertheless, these lithographs were inspired by Moby Dick, and they do help to illuminate many themes closely related to many of Melville's questions."
A Selection of Prints Accompanied by Corresponding Excerpts
This collection was donated to Sturgis Library by Hugh S. Clark in 1986.
This portfolio and other archival material are available for in-library use. Fragile materials may have photocopying restrictions. To access archival collections contact us at director@sturgislibrary.org or call the Library directly at (508) 362-6636.
To see the findings aids for our archival collections, click here.
You can search the archives by name and subject using the CLAMS online catalog.
The Complete Collection of Benton Spruance Moby Dick Lithographs